Who We Are
For over 35 years we have manufactured and sold LPG-powered air and water heaters for recreational vehicles and marine applications. After 35 years, Propex is proud to maintain the products are still designed and manufactured in the UK. Ensuring all UK and EU safety standards are fully maintained. Technical support is readily available and includes excellent after-sales support by employees who know the products.
History of Propex
(circa 1985)
In the beginning came the X1 heater (circa 1985), a 1.6kw heater commissioned by the GPO and fitted into engineer vans. Supplied with a one-hour timer, once the engineer had their hour of heating, they'd have to get a move on or suffer the cold. The heater would not reactivate for another hour, a directive from the GPO, not ours. In total, about 12,000 X1 heaters were manufactured and produced in Lincoln.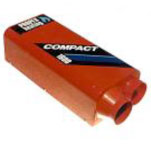 The success of this heater led to calls from the motorhome fraternity for an efficient, reliable gas heater for them. Enter the COMPACT 1600. Virtually identical to the X1 heater, only squeezed into a smaller box with the controller mounted externally. Production of the COMPACT lasted until 1999. Moving from Lincoln to Verwood and finally to Southampton as the business grew.
The introduction of the CE requirements put an end to the Compact heater and cleared the way for the Heatsource range of heaters. The initial model was the HS1600, offering far greater monitoring, lower electrical current consumption and gas efficiency. This model also met the new European requirements of EN624, the Gas Safety Directive.
Since then, the HS1600 developed into the HS1800 and then the HS2000 with further advances made to the motor control and airflow sensing. As a result, this improved reliability and reduced current consumption even further.
2002
In 2002 Propex struck a deal with Belling and took over the rights to the Malaga water heater, with production moving to Southampton.
2008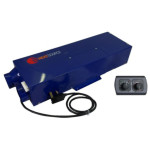 In September 2008, Propex Heating and Leisure agreed to a strategic partnership with Munster Simms Engineering. Their world-class LEAN manufacturing facilities based in Bangor, Northern Ireland, ensured Propex were well-positioned to continue its growth and R&D.
Soon after the new partnership came the release of the highly acclaimed combined gas and (mains) electric heater, the HS2000E. Whilst a range of underfloor mounted heaters have been developed in these facilities more recently to save valuable internal room inside the vehicle.
2013
In October 2013, Propex moved into a new, larger unit in Ringwood, Hampshire offering more space and improved facilities.
2023
In September 2023, Propex moved again into a brand new, state-of-the-art premise in a newly built complex in Ringwood.
Where We Are
We're based in Ringwood in the beautiful New Forest on the Hampshire and Dorset border. Recently moving to brand-new facilities only 10 minutes drive from the town centre where you'll find lots of cafes, restaurants, and local amenities.
The golden beaches of Bournemouth and the famed Jurassic coastline are only a short drive away, perfect for any camping trip!
The new facilities include a new showroom containing a wide array of caravan and motorhome accessories, and a fully equipped workshop with two vehicle lifts to carry out heater and tank installations. Plus, Motorhome and Caravan habitation services.
Our New Address:
B3 Platinum Jubilee Business Park
Hopclover Way
Ringwood
Hampshire
BH24 3FW
If you struggle to find us using the postcode above you may want to try either BH24 3DZ (Crow Lane) or BH24 3FQ (Hopclover Way), as we are in a brand-new premises that doesn't always show up on map and SatNat applications.
What We Sell
We stock a comprehensive range of products and spare parts for all the Propex heaters. Plus, a full range of Whale heaters (including the Heat Air and Expanse), submersible pumps, taps and plumbing accessories.
Our heaters are easy to operate at a minimal running cost. With a particular focus on preserving the environment as all of our heaters run off LPG, a fuel source which has a cleaner burn and produces up to 120x fewer particulates than diesel.
Our services include complete fitting installation and repair work for all caravans and motorhomes. Propex is also a member of the National Caravan Council (NCC) and operates under the Approved Workshop Scheme (AWS).